Back To Our Services
Garage Doors Maintenance Company, San Bernardino is the most advanced and efficient when it comes to maintenance of garage doors. Customer contentment and approval is our company's policy, coupled with quality work. Any of these things lacking is simply not how we do our job.
Maintenance of garage doors is a bit tricky for unskilled people.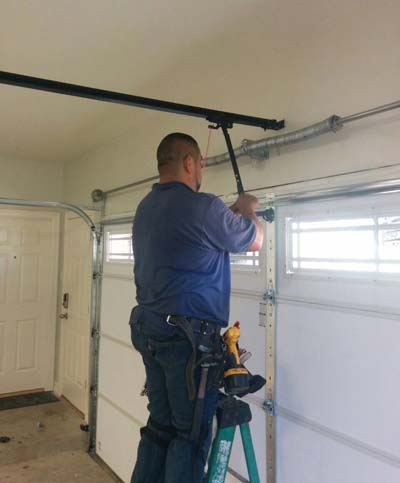 Garage doors may look very simple and easy machines but they have many complexities especially if they have electric opening. Garage doors are scientifically multifaceted machines and have to stand many things such as weather or getting hit occasionally. This may lead up to some troubles which need your immediate attention. The most common type of these problems is their door becomes hard due to some activity in electric opener, and it takes a lot of muscle to lift and come down. Sometimes the problem is simple and easily resolvable and sometimes it is more serious. If any such unfortunate thing happens, you must consult the garage door manual and if it is complex that call us at Garage Doors San Bernardino. The other problem when garage doors become heavy lies in garage door springs. Springs have to bear a lot of tension and flexibility so they need adjustment after some time. Now this is a dangerous job, one you should never attempt yourself, certainly not when we are there to offer you our services and take your troubles away.
At Garage Doors San Bernardino, we offer repair and maintenance for both residential and commercial garage doors. We have availability and fix doors on spot. Our team of technicians and seasoned professionals fully trained and licensed to operate and maintain all types of garage doors. We have a full stock of spare parts of most of the brands of garage doors. We provide quality service and we fix doors thoroughly and instantly.
The best work and the most superior quality require periodic adjustments and maintenance. Garage Doors Maintenance Company, San Bernardino would advise you to check for maintenance after 12 months. This regular look after would diminish the chances of major problems which an unattended door may develop. Regular and timely maintenance is the best advice anyone can give you, and we insist you to take that route for to attain maximum benefit from your garage door. We are providing quality services to many residential and commercial entities of San Bernardino for years. The content that comes from serving the people of this wonderful city makes the job all more enjoyable and gives us the drive to continue for many years to come.
Does your garage need inspection and repair? Do you want that you're the maintenance of your garage door should be done by first rate professionals? Call our team!
Back To Our Services