Back To Our Services
Garage Doors Replacement Company, San Bernardino is the one of the best reputed it comes to Track Adjustment and Replacement of garage doors. Customer contentment and approval is our company's policy, coupled with quality work. Any of these things lacking is simply not how we do our job.
One should always consider few things before opting for garage door replacement.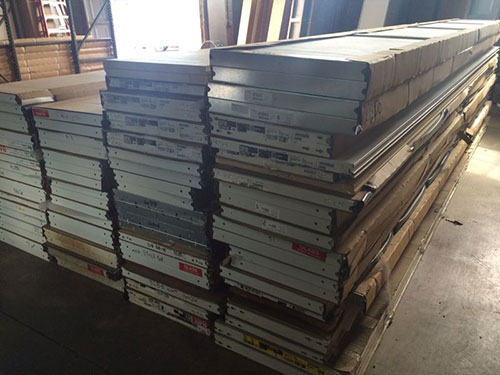 These few things state nothing beyond obvious. First of all it needs to be checked if your whole garage door needs replacement, because replacing (or repairing) only the damaged part will also do the job yet you'll save money. It is honest opinions like these which may lose us some profit but it cements our customers' trust in us. If you want to replace your entire garage door, first thing that comes to mind is the material and its type. Garage doors come in three different materials steel, wood and fiberglass. Prices of these materials vary and each garage door will have different cost. One you selected the type; you have to make a decision on whether or not to replace the garage door hardware. Sometimes it's not your decision to make as the new door won't fit in the existing hardware, but other times the new door would fit in perfectly. If you have a budged and feasibility it is recommended that you replace hardware along with the garage door because that would result in more efficiency and would allow you to have brand new equipment which won't need replacement for some time to come.
At Garage Doors San Bernardino, we offer replacement services for both housing and commercial garage doors. We have unique availability to replace doors .Our team of technicians and seasoned professionals fully trained and licensed to operate and change all types of garage doors. We have a full stock of spare parts of most of the brands of garage doors. We provide quality service and we replace doors instantly.
We are providing quality services to many residential and commercial schemes of San Bernardino for years. The satisfaction that comes from serving the people of this amazing city makes the job all more enjoyable and gives us the drive to continue providing quality and excellence for many years to come.
If your garage has broken and needs replacement don't risk your security with carelessness or recklessness Call us at 909-962-6344 for assistance and free estimates. Please make sure that you visit our website www.garagedoorcontractorsanbernardino.com for detailed information about us and our services. We provide spontaneous, quality and efficient doorstep services seven days a week
Back To Our Services